"I'm the least competitive person. That's not my personality. I know my wines will be world-class, so if your wines are better, then that's great! Congratulations. That's a good thing. It's only better for me."  –  Juan Mercado, RIISE
It's a clear, crisp August morning in Paso Robles when Juan Mercado hops out of his GMC Diesel truck. Dressed in a black baseball cap, gray T-shirt, jeans, and shiny, black-framed glasses, he has a purposeful gait and a serious bearing, made more ruminative by a frequent hang dog expression.  He is a first-generation Sinaloan and has just returned from visiting his mother in Northern California. "She still lives in the house I grew up in. I try to see her every weekend."
Mercado, 53, was raised in Brentwood, California. "I don't know if you've heard of Brentwood Sweet White Corn, but it's a very famous sweet white corn," he says. "If you go to any farmer's market in California, you'll see corn, and then you'll see Brentwood Sweet White Corn. Even at the French Laundry, they say it by name on the menu. If people know Brentwood, it's because of the sweet white corn and the cherries," he says proudly.
There's a lot of buzz in Paso Robles surrounding Mercado these days. In the last few years, he's taken ownership of two local, storied vineyard designates, Shadow Canyon and the Heaton Vineyard. He acquired these sites the way he does most things: quietly and without drawing attention to himself.  News of the acquisitions traveled slowly through the region, via the preferred methodology of farmers and winemakers: word of mouth. These vineyards will greatly inform his upcoming project, RIISE, which makes its formal debut this September. He's also sourcing from other sites in the Willow Creek District of Paso Robles including Paderewski, Catapult, Full Draw and Four Hearts, and a little fruit from a site in the Templeton Gap sub-appellation. He'll be entering the market with a robust 1,000 cases of wine. The RIISE collection will be line-priced at $100.00 a bottle, save for a reserve, which will debut at $ 200.00 a bottle.
This is the second time Mercado and I are making time to talk about RIISE. Last November, we met on a rainy day for lunch at BL Brasserie, off Paso's town square. We tasted the RIISE wines out of shiners and then drove up to York Mountain to see Shadow Canyon Vineyard. He was driving his white Alfa Romeo that day and looked more like a Napa Valley transplant, but today he's looking every bit the Paso farmer. "I get so much street cred because I still have my GMC diesel truck. The best thing I could have done is kept it."
He's not new to the wine space. In 2002, Mercado founded Realm Cellars, which quickly became a darling of the critics and amassed a multi-year waiting list. In 2018, he departed Realm Cellars to start RIISE, kicking it off officially in 2019. It's a deeply personal project and he's eager to see it out in the world. "Realm gave me the opportunity to be here. It gave me a huge head start. When I started Realm, I was completely new to the business and just trying to get people excited about it was hard. Now, this time around, it's a lot different."
He rifles through the gallery on his phone, pulling up pictures of the RIISE suite of wine labels, all done by an artist in Barcelona. "He's a dear friend and we did the Realm Moonracer label together." I was expecting they might look a bit like Realm knockoffs. After all, why not trade in on some of that Realm Cellars magic? But no, Meracdo's labels aren't derivative. They are fresh and arresting in the vibrancy of their colors and the originality of their aesthetic. "If you're trying to copy someone you're already behind. You have to have great taste, but you also have to have something that's original to you. If you're original, then you're golden," he tells me.
The Tempranillo, which is called "Jovian" (meaning alien), presents with a strong, stunning label. "I'm not from Paso Robles and Tempranillo is not from here, so I wanted a label about exploring, going to a new land. You should have seen all the versions of aliens we did." The resultant label is powerful, unsettling, and whimsical all at once. If Gabriel Garcia Marquez and Wes Anderson had a love child who grew up to be a painter, they may have come up with something like the artwork for Jovian. The first time I saw it, I got chills.
"Fermin," the reserve wine in the lineup, is named after his father. "It means strength and power," he says, showing me a graphically strong label with meaningful easter eggs hidden throughout. He points out a small rendering of a snail, tucked in among some roses. "The snail is for patience." A Syrah-dominated blend called "Peace" is a tribute to Pax Mahle. "He doesn't' know yet, but he'll get it," Mercado says.
"Doyan" is the Grenache-based blend. At the time of our talk, he's still finessing the Doyan label. "It can be better. Doyan is basically someone who is a maverick. Someone who is avant-garde. Think of the founding fathers of Paso. Grenache is probably the most versatile of all the noble grapes in the world, and it can be planted nearly everywhere. It's a chameleon. That's where that name comes from."
Suffice it to say, all the wines are remarkably balanced, flavor-forward but possessing of an underlying structural and textural elegance and seamlessness. Mercado has enlisted consulting winemaker Anthony Yount (Royal Nonesuch Farms, Kinero, Denner Vineyards) to make his wines. "Juan gives me direction. I know what Realm was like. I know what his customers were like. So when he's telling me about palate impression, texture and layers, I get it," Yount says. When vineyard owners call with offers of fruit, he'll have a good enough sense of Mercado's needs viticulturally to either accept or refuse the offer with confidence. Or he'll tell Mercado, "I don't think that area's going to give you what you want in your wine." And Mercado will tell him, "Good. That's all I need to know."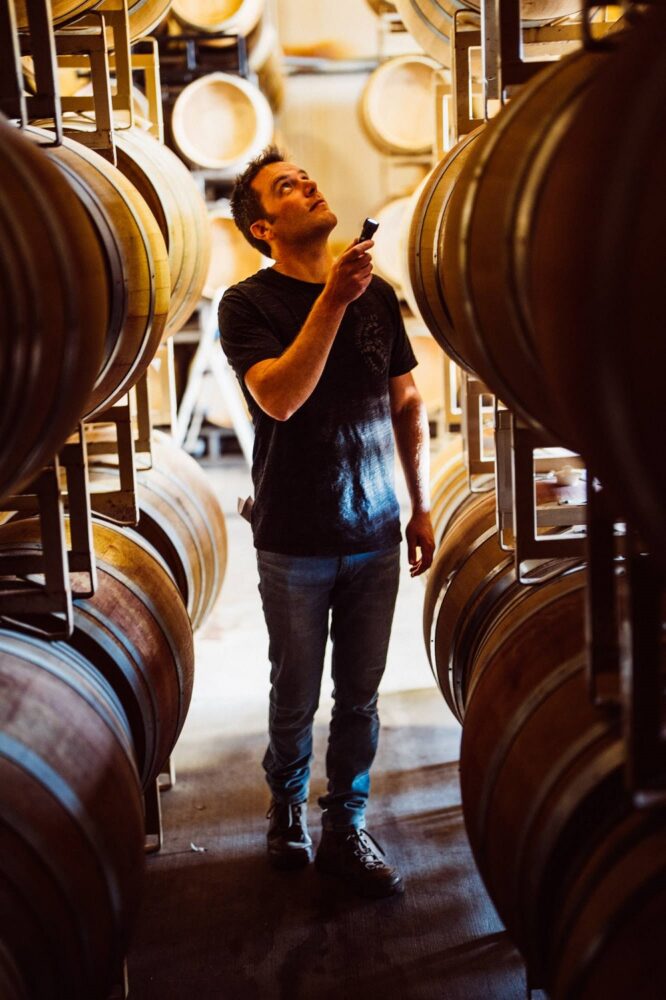 "I'm the vintner and I'm very involved," Mercado says. In addition to calling the picks and working harvest with Yount, Mercado is intimately involved in blending trials. The marketing of the brand, however, is solely under his purview. "Years from now, hopefully someone will see one of my bottles and say, 'that looks like a RIISE label.'"
He's an adept marketer, but he tells me, "I didn't study it or anything. I just know what doesn't work." He is debuting the entire lineup at once. "When we launched the rebrand at Realm, even though we weren't releasing all the wines at once, we wanted to make sure all the labels were redone, because it would be that much more impactful." He likens his choice to debut the entire collection at once to how automobile companies like BMW and Mercedes will often update their entire line of cars within a year of debuting a new model. "That makes sense to me," he says.
"There's a balance, there's a tension between acid and weight, but we still want it to be hedonistic, fuller," Mercado says of the RIISE style. "That is very important. All the vineyards line up and provide us with the ability to achieve this.  People are surprised every time I taste them on these wines. They'll say, 'That's not what I was expecting from Paso. Or you.' Paso Robles can be very warm, so people think my wines would be bigger, but they're balanced. They're all over 15%, so they're not light. They're like offensive line men with quick feet. They're fast for as big as they are. There's great acid. Our vineyards allow us to achieve that. We just tasted all of our '22's, through probably 40 lots, and there may have been one, maybe two max, that had overripe tones."
Whenever we've spoken, Mercado maintains a high level of seriousness. At first, I found it hard to reach him. But his humanity is never more apparent than when he speaks about his seven-year-old son Beckett. During these moments, he smiles broadly, his eyes flash with joy and something untethered shines through. "I had my son at 46. Being an older father makes you appreciate it more, and you're also in a position, both financially and on a personal level, especially for men, to be more secure in yourself. I think it's easier to be a father at that age than when you're 23 or 24 and trying to get your career going and provide some stability for yourself."
Mercado was only 12 years old when his own father died. "He worked two jobs. He gave up as much as he could for us, and I could see that." A former nurse, Mercado worked for nine years at a hospital in Oakland, working primarily in the cardio-pulmonary unit, ICU-PCU. "When my father passed, he passed from complications from a heart surgery." Though he says he didn't get into the medical field because of his father's history, he did end up "recovering patients who had had similar surgery as my father. It just so happened that at the time, from a specialty standpoint at the hospital, it was considered the most complex field, and I needed to keep busy, and I was really good at it. But it reaffirmed how short life is. I was always aware of that. My father got to enjoy life, but not to the extent that he deserved. He worked a lot. I'm sure, if he could do it all over again, in hindsight, he wouldn't have spent so much time working." His father was only 44 years old when he died.
Growing up, Mercado spent the summer months visiting Mexico with his mother and brother. They'd start their summer breaks visiting an aunt in Anaheim and then drive down to Valle de Guadalupe. "My father would drive us down. Spend three or four days there, then leave for a month," returning to work. When summer was over, he'd pick the family up and drive them home to California. "My mom still has half-sisters and cousins in Mexico. They're all scattered throughout Sinaloa, La Paz and Valle de Guadalupe." He still attends annual family reunions in Mexico.
Before nursing, Mercado was a medic in the army. After completing basic training in Kentucky, he moved to Fort Sam Houston Texas and Fort Louis Washington. Following the active-duty portion of his enrollment, he was a reservist for four years, all the while working part-time while attending school. While working in Oakland, Mercado began taking one month off from hospital work each year. Sometimes he'd visit a winegrowing region in Europe. Often, he'd attend the Wine Spectator Wine Experience in New York. It was there that, in 1997, he met winemaker Pax Mahle. When Mercado told him he was attending alone, Mahle invited him to tag along, and they became friends. He also met Trent Moffett of Livingston Moffett Wines at the same event, and in 1999, Mercado spent his month off working harvest in Livingston Moffett (now Dana Estates) in the Napa Valley.  John Konnsgaard was the consulting winemaker at the time. "I was already a big fan of his," Mercado says.
When Mahle started Pax Cellars in 2000, Mercado offered to help him out, free of charge. "There wasn't anyone else on staff that first year. The second year, a chef buddy of his from Nantucket came to help. In 2002, Duncan Arnot Meyers (of Arnot Roberts) started helping, too." By then, Mercado was down to working 3 days a week at the hospital. On alternating days, he'd head up north. He and Mahle would visit vineyards. Twenty years ago, he tells me, "Vineyards weren't farmed up to the standards that they are today, so we'd go visit them, drop fruit, do a lot of the pruning and thinning ourselves. That's where I learned how much I didn't know. But I thought, if they can do it, why can't I?"
In 2002, Mercado joined Mahle for a road trip to Hospice du Rhone in Paso Robles. They were driving north from Ventura to Paso Robles and stopped at Sine Qua Non and Alban on the way. "Our first stop in Paso Robles was a house party at Justin Smith's. He was just starting Saxum. He'd had only one or two releases under his belt. And also at the party were Scott Hawley, Eric Jensen, Cris Cherry, and they were all starting out at the same time. And I was starting Realm, so we had a camaraderie going. I always kept in touch. I consider them dear friends. As we grew Realm, we started doing team retreats, and we did one in Paso Robles. We brought all the production and office staff. We went and spent some time at Saxum and Booker. This would have been in 2015."
After leaving Realm, he remained a partner and investor for some time. He was worried that the optics wouldn't look good if he was making another Cabernet Sauvignon in the Napa Valley. "It just didn't feel right." With friendships deepening in Paso Robles, he decided to head to the Central Coast. "Paso Robles is a different animal. In many ways, it's a different consumer. If it weren't for Beckett, I'd be down here most of the time. I keep my place in Napa because I've got a great group of friends and family up there, but instead of being 70% there and 30 % here, it would probably flip flop. Paso feels like a home away from home. It's a nice place to spend time. It's funny because I've had folks tell me, 'We don't want this to be like Napa.' And, then I tell them, 'Well, it's never going to be like Napa.' And then they almost get offended. But it has nothing to do with potential. It's all about proximity. Why are the Hamptons the Hamptons? Yes, it's a beautiful place, but it's because of its proximity to New York. It's all about proximity. It's not like the Hamptons have an industry to sustain it. Napa has San Francisco and, people forget, Sacramento. There are almost 2 million people in Sacramento an hour away. We don't have anything like that close to Paso. My house in Napa is a 45-minute drive to downtown San Francisco. Imagine if downtown L.A. were 45 minutes from Paso Robles. The prices for things, for land, would look a lot different."
In Napa, he says, there are entire neighborhoods comprised of mostly second homes. "I lived in those neighborhoods." As a result, he says, during the week there's hardly anyone around, and any sense of community and togetherness begins to dissolve. "I don't think that will ever happen to Paso. That's a nice thing. My neighbors in Paso Robles are all here full time. We have more of a sense of community."
While there's no brick and mortar tasting room in the plans, Mercado does hope to have his own winery building someday. In the interim, Mercado will be pouring his wines at pop ups. "I've got several places I can use as pop ups for tastings. I won't be selling wines at these places, but I'll be pouring for customers from time to time. And once this release is done, I can start thinking about the next level of the brand…collaborations that I enjoy. A while back I did a dinner with Andremily, which was a lot of fun. What I want to do is team up with other brands that are totally unexpected and that have a notoriety that we don't have.  In December, we'll do a dinner with Billecart at Les Petite Canailles (in Paso Robles). Stuff like that."
Mercado doesn't consider himself highly social, so tastings sometimes pose a challenge. "If it's people that I know, then yes, I enjoy it." He's just recently conducted a tasting for a few healthcare workers, former colleagues from his days as a nurse. "If it's during the week, I don't mind it, but it can get tiring at times. I enjoy it, but it depends on the people. I've learned to be social. When I'm at home, I'm usually watching documentaries and just relaxing. My mother needs to talk. She talks non-stop. She's very sociable. I'm not. It's just not something I need. Even at a tasting, most people won't even know who I am, which is great."
The roman numeral two, serving as the "I" in RIISE symbolizes Mercado's second chapter. "It's also about continuing to rise, whether it's above your background or above the odds, which are always against you in the wine business. It's a very difficult business. If you really wanted to make money, you'd put it into something else. It's more passion driven."