"If music be the food of love, play on."
William Shakespeare
In 1982, I attended my first music concert. My sister's friend had gotten us some tickets to see Rick Springfield at the Concord Pavilion in Northern California. I was listening to other stuff at 17, more rock and punk, but I liked Springfield's song, "Jessie's Girl." Being in that crowd, on a warm summer night, taking sips of cheap beer out of plastic cups on the sly…well, that was it. I was hooked. From then on, seeing live music – whether at a small jazz club, a large stadium concert, or a music festival – became a regular and even necessary part of my life.
Now in its eighth year, BottleRock, the high-profile wine country music festival, descended upon the Napa Valley this past Memorial Day weekend. My wife and I attended, and we began getting excited as soon as we neared the fairgrounds where the three-day festival is held.
Streets nearby are cordoned off and only pedestrians and colorfully decorated pedicabs can get through places like Juarez Street. Lined with hawkers selling wrist bands and knock-off merchandise, Juarez and other streets nearby are where you can fill up on cheap snacks. Tacos Al Pastor for two bucks a piece. Hotdogs for a buck fifty. Ice cold bottles of water, their labels left behind floating in melted ice water, run you a buck on the street. Cannabis is for sale everywhere, and there are even outdoor areas where you can grab a cold beer and a pre-roll from different vendors set up just feet from each other.
A food vendor on Juarez Street
Because I have a media pass, we are able to enter the fairgrounds fairly quickly. Lines are otherwise long but move at a fast clip.
The vibe at BottleRock is different from other music festivals. The same electric energy hangs in the air; there's the same crush of excited bodies; groups of friends hanging out and walking together, laughing and having fun while discussing which stages to hit and when. At BottleRock, though, you can do all of that while eating food from some of Napa Valley's best restaurants, including Morimoto Napa, Press Restaurant, the Michelin-starred La Toque, Boon Fly Café (where the fried chicken is so good, it's a wonder it's legal) and many other restaurants. Craft cocktails and beers are plentiful, as are the finest wines the valley has to offer. Everything comes at a steep price, but the quality of the concessions is top-notch.
Winemakers (from left to right) Jeff Smith of Hourglass, Eric Jensen of Booker, Juan Mercado of Riise, and Benoit Touquette of Realm
BottleRock / Day One 
As a media guest, I get access to various VIP experiences, but in order to enter the swanky VIP suites, I need an invitation from a suite host. This year, I receive an invitation from Realm Cellars in the Napa Valley, and I'm glad I go. It's a great way to experience BottleRock. Guests get access to great wines served at the right temperature – about 60 degrees at the warmest. All beverages are served in plastic cups for safety reasons, but the plastic cups at the Realm suite are shaped similarly to Govino glasses and showcase the wines well. Gourmet pizzas from Oenotri and other foods are also available. The spirit is chill, friendly. There are kids running around.
Luis Gonzalez of Bettinelli Vineyards, with wife Minerva and sons Julian, Nicolas and Luciano
They say never meet your heroes, but I say, if your heroes are made of flesh and blood and imperfect like the rest of us, then go for it. Some of them may be unpleasant, disappointing, but my own personal experiences have been largely positive. Meeting someone you admire and discovering they're kind and fun to hang out with can be super-inspiring. Enter Michel Rolland.
I'm chatting with Realm owner Scott Becker when the world-renowned consultant arrives at the suite, and I can't help but show my fangirl side. He's been a hero of mine in the wine space for many years, but until now I've never been able to meet him. When it comes to wine, I'm a texture freak. For me, that's the element that completes a wine, and Michel Rolland is a master when it comes to helping achieve great texture in wine. He's also virtuosic at blending. "We were blending the 2021 vintage with him just last week," Becker tells me. "We worked on various iterations of The Absurd and he added just a touch of Petite Verdot at the end that totally transformed the wine…it came across as more complete, no edges, no missing spots…just complete. Michel has a gift, and we are grateful he chooses to use it every so often with us."
Before I know it, I'm sitting across from Rolland, and we're joined by Becker and Realm winemaker and co-owner Benoit Touquette. Rolland is open, polite, friendly. He makes little jokes. Occasionally there's a lull in the conversation, and we listen to Spoon playing a tight, energetic set.
Chatting with Michel Rolland and the owners of Realm
Touquette is joined by his wife, Nikita, and they show me photos of their baby, Roman. They're just now introducing him to "solids, textures and smells," Nikita says. They're  eager to take him to small town parades, like the one held on Fourth of July in Calistoga each year, and their favorite activity as a family is taking evening walks together in the golden hour.
Touquette excitedly tells me about Realm's heritage clones project, which is currently underway. In his charming French accent, he says, "We always felt like we need to leave something behind that could help support what the earlier generations have done, like Robert Mondavi… We have started the process not with Bordeaux varietals or Cabernet Sauvignon, but with Charbono from Toffanelli Vineyard in Calistoga and Petite Syrah from Hayne in Saint Helena. We felt that those fruit were having a unique expression, and we wanted to populate those two varietals in our vineyards. The process … is quite intensive, but we have started thanks to UC Davis and their Foundation Plant Services, so we would expect to be able to plant those two varietals in our estate in Stags Leap District in two years. Honoring the past, we will, of course, go head train and dry farm." Admittedly, this is all geeky stuff, but I'm nerdy when it comes to wine, so I'm into it.
By the time Greta Van Fleet comes on stage, we're all rocking out, including Rolland, who is now on his feet. We are collectively transfixed by lead singer Josh Kiszka, who appears to be channeling the spirit of Freddie Mercury – if not in voice, then in showmanship and magnetic intensity. At the end of their brilliant set, as the sun is setting, Kiszka throws white flowers into the audience, their petals glinting in the fading light. With a final, glamourous gesture, he flings his tambourine into a sea of eager hands. When Metallica comes on next, anyone who wasn't on their feet is now, and Rolland is nearly impish with delight.
Music is the great equalizer.
Greta Van Fleet
BottleRock / Day Two
My wife and I see some great music throughout the second day, including a rousing set by the unstoppable Black Crowes. At 55, lead singer Chris Robinson is defiant, his voice on-point, his hips limber, gesticulating. We sip on cold Champagne during their set, and the mood is simultaneously luxurious and rough-and-tumble.
The Black Crowes' Chris Robinson
But all day I'm counting down the hours for the Mount Westmore show. There's nowhere I would rather be than among the crowd at this show. No VIP passes or special treatment necessary, thank you very much. We're good where we're at.
A thick cloud of cannabis floats in the air. People of all ages and color are in the large crowd. When Snoop Dogg, E-40, Ice Cube and Too Short arrive on stage, each with their own throne, flanked by strippers and two large stripper poles, the energy in the crowd is pulsating. It's fun, dangerous, inclusive, and suspicious all at once, and the crowd cannot get enough of it. My wife is indulging me by attending; it's not really her kind of music, but even she gets swept away by the call-and-response engagement between Mount Westmore and the crowd. It gives her chills.
Mount Westmore
On our long walk back to our car, we have a robust discussion about the women on the stage. My wife feels they're being exploited. I disagree, and counter that not only are they consenting, but they're also empowered. It's theatrical, after all. But she's not having it and we agree to disagree. It's thrilling to find new things to debate when you've been married to someone for 18 years. We feel young again.
BottleRock / Day Three
We have big plans for the third day. We arrive early and have made a pact going in that we won't tap out until after The Wailers featuring Julian Marley perform at 8:30 p.m. The day goes swimmingly, and we have fun checking out vendor booths and people-watching between sets. Michael Franti and Spearhead deliver an uplifting show, and when he brings children on at the end of their set, to dance and sing, it's hard not to get choked up watching them up on the jumbo screen – at this time, during this news cycle – carefree and all smiles, as children ought to be.
Then kismet happens and our plans change. I request a media escort to take us to the VIP lounge to watch an acoustic set by Amos Lee (media members aren't allowed in the VIP village without an escort). Lee has opened for Bob Dylan, John Prine, Merle Haggard, Paul Simon, Van Morrison, and some of my other favorites. In the Azores Islands, where I'm from, if a fado singer is conveying a truly uncommon, soulful performance, we say, "O fado aconteceu." It means that "fado," and all that musical form embodies, has happened in its truest form. When Lee performs "Arms of a Woman," the spirit of Philly-born soul happens in that tent.
During his brief set, Lee casually jokes that everyone is really there to see the next act up. That's when my wife and I realize The Wailers featuring Julian Marley will be performing shortly inside the VIP lounge. At six in the evening, they walk out on the same small stage, emanating a halcyon, centered vibe. The singer I want to see most this whole weekend – Julian Marley – is suddenly just feet away, singing Lion in the Morning, his countenance sweet and loving. My throat tightens. My wife and I sway along with the crowd. Someone speaking too loudly near the front is shushed by the audience. Our communal respect for Marley and the Wailers, and Marley's father, and everything that that family legacy embodies, is palpable. It's a moment I soon realize cannot be topped. So after that balm of a set, my wife and I slowly exit the festival grounds, foregoing the final headliners for a light dinner. We walk to Hog Island Oyster Company inside the nearby Oxbow Market and manage to get a table, as they're planning to shut down the kitchen soon for the evening. We eat cold raw oysters on the half shell and wash them down with Albarino as the sun sets. We talk about the music we've seen and the people we've just met.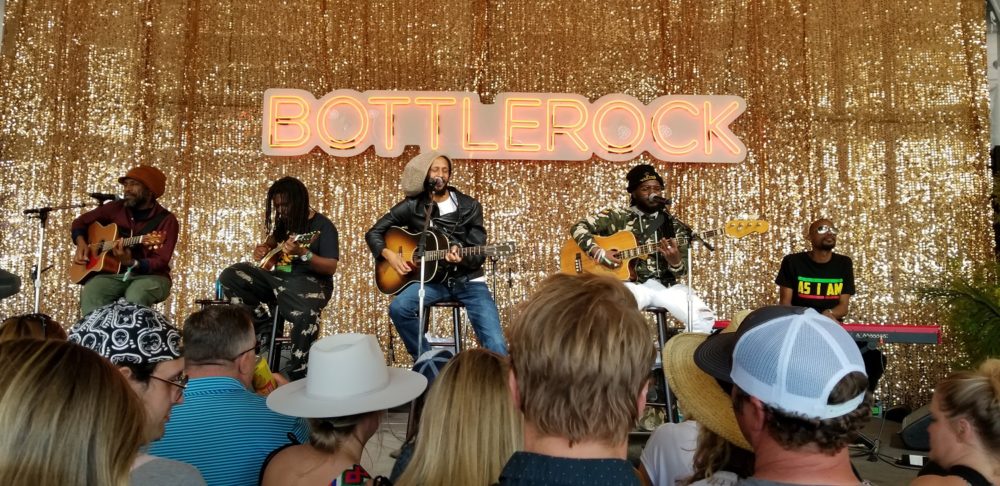 The Wailers featuring Julian Marley inside the VIP lounge
For an experience like the one we had with the Wailers featuring Julian Marley and other headliners, VIP wristbands are $398 per person, per day. That's about $1,200 a person, which sounds like a lot, but if you're a big music fan, and you can save up for it, it's worth it. You'll want to set aside some extra money for food. Accommodations near festival grounds are expensive, especially over Memorial Day weekend. We were lucky enough to stay with family. VIP Suites are $27,000 a day for 30 people; that's about $900 a day per person if you buy a suite with 29 friends. Regular admission ticket prices run about $179 per person, per day.