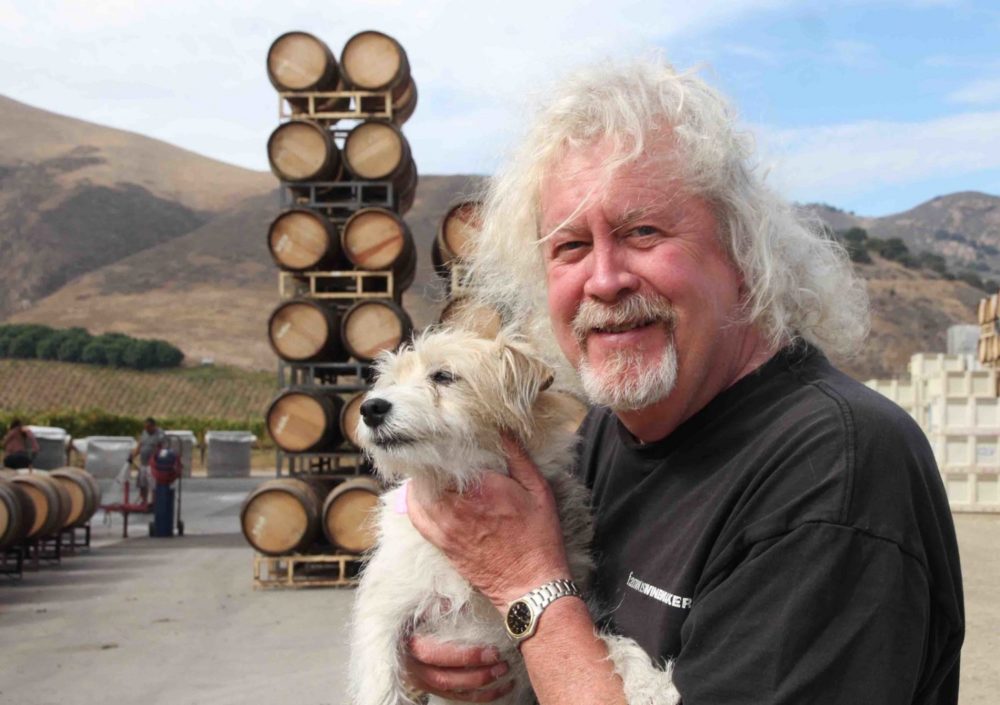 "We chased our pleasure here,
Dug our treasures there,
But can you still recall the time we cried?
Break on through to the other side."
The Doors
Jim Clendenen, the mind behind the world-renowned Au Bon Climat winery, has died at the age of 68. Clendenen co-founded Au Bon Climat in 1982 alongside winemaker Adam Tolmach of Ojai Vineyard, working in leased quarters. In 1989, when their friend Bob Lindquist (founder of Qupe and Lindquist Family Wines) asked them to join him at a then-new production facility located beneath a bluff of white stone at Bien Nacido Vineyard in the Santa Maria Valley, Santa Barbara County entered a promising new era of winemaking. Clendenen, inspired by his trips to Burgundy, leaned into making Chardonnays and Pinot Noirs in a minimally-interventionist style. Coaxing acidity and typicity from fruit growing just miles from the Pacific Ocean, Clendenen left a bold, yet elegant imprimatur on the wines of Au Bon Climat. Though he was often loud and boisterous, his wines were quiet, profound, age-worthy revelations that demonstrated terroir and restraint. Never wavering from his style of winemaking, Clendenen continued to deliver precise, serious wines, irrespective of industry trends or consumer whims. When Chardonnays became big oak bombs, Clendenen stayed the course, releasing vintage upon vintage of sparer, yet focused wines. In addition to Au Bon Climat, Clendenen had several other successful wine brands, including Ici La Bas, Vita Nova, Clendenen Family Wines, and Barham Mendelsohn. Adam Tolmach says, "Jim got the concept of how important balance was is in wine and never wavered. He vociferously defended the idea, especially when it became unpopular in the 1990s, and that ultimately made the wine world a better place."
Frank Ostini, of Hitching Post II restaurant and wines, remembers him by saying, "Jim was a dear friend whose influence on the trajectory of Santa Barbara wine can never be overstated. It was quite simple, yet vastly complex, both personally and professionally – for our region and our wines. Jim presented us to the world, while he brought the world to us, and he explained it to everyone along the way."
Clendenen eventually grew Au Bon Climat to 60,000 cases annually, his wines gaining critical notoriety around the globe. (Clendenen was even better known in France and Japan than he was in the U.S.) Winemaker Matt Dees (Jonata) says of Clendenen, "It didn't matter where one was – Lithuania, Lisbon, Lubbock –, as soon as you mentioned that you were a winemaker from Santa Barbara, you always got the same line: 'What a small world! You literally just missed Jim Clendenen.' The man was everywhere. Nobody spread the gospel of Santa Barbara County wines further and with more affection than Jim. He lived these wines, he loved these wines, and in so many ways he defined them."
Along the way, Clendenen mentored various winemakers, including sommelier Rajat Parr (Domaine de La Cote), Paul Lato (Lato Wines), Gavin Chanin (Chanin Wines), Gary Burk (Costa de Oro), and Michael Brughelli (Brughelli Wines). Clendenen could often be found cooking lunch for his mentees, friends and visiting winemakers, at a makeshift kitchen in the winery. There he'd stand, overseeing multiple dishes at once, while guests gathered at a long, beat up farmhouse table dotted down the middle with bottles of wine he had pulled from his cellar. Benchmarks and obscure wines shared the table with aged bottles of Au Bon Climat. On several occasions, I joined Jim and his guests at that now historic table, drinking Au Bon Climats that were twenty years old and still fresh and vibrant. He was always delighted when his wines showed well, though he never seemed surprised. He had an abundance of confidence about his fruit sources, his own talents and those of his crew.
"No single person has had a greater impact on the perception of wines produced from Santa Barbara County, and more specifically the Santa Maria Valley," says Michael Brughelli. "Jim has been an incredible advocate for the region, and there could be no better spokesman. He was dedicated to crafting world class wines from this area, and he did so with grace. The body of work he created via dozens of vintages of amazingly thoughtful and well-made wines will never be forgotten. More importantly, his gregarious nature and charismatic charm will always be remembered by those of us who had the good fortune to spend time with him. There has been very little turnover in the Au Bon Climat organization over the past few decades, and the handful of folks who have been there over 20 years (with no intention of going anywhere) speak volumes to the culture that Jim created at Au Bon Climat. His infectious laughter and humor always lit up the room, and his compassion and appreciation for his crew was unparalleled. A man filled with passion and drive, Jim will be dearly missed by his fellow industry members and his staff."

Born in 1953 in Akron, Ohio, Clendenen grew up in California after his father, a chemical engineer for Firestone Tire & Rubber Company, relocated the family to Whittier. After attending Lowell High School there, Clendenen headed for the University of California at Santa Barbara, where he studied pre-law. When he was a junior, he travelled throughout Europe for just over a year, immersing himself in the wine and food culture of France, Italy, and Spain. When he returned to Santa Barbara, he joined the Santa Barbara Wine & Food Society, becoming one of its youngest members at the age of 21. Instead of going to law school following his graduation, Clendenen headed back to Europe for half a year before returning stateside to take a job making wine at Brander Winery. From there, he joined the Zaca Mesa team in 1978. From then on, he never looked back, becoming one of America's most critically celebrated winemakers. At his side in the cellar was Jim Adelman, whom Clendenen hired in 1991. In writer Matt Kettmann's comprehensive book on Santa Barbara County's wine history, "Vines & Vision, The Winemakers of Santa Barbara County," Clendenen is quoted as saying of Adelman, "He was just some new hands on board in the beginning. Now he's the man that makes it all work in every sense."
Nicholas Miller, who along with his family owns the iconic Bien Nacido Vineyards, adds, "Jim singlehandedly had the biggest impact on sharing the wines of Santa Maria Valley with the world. He was an incredible promoter because he so deeply believed in it. Hard work plus belief, with the vehicle of a larger-than-life personality, meant that everyone listened when he spoke. While he did like to stir the pot, it was never just for reactions, but always grounded in what he believed. He was a giant who never bent to trends or naysayers. His success was created by his hands."
Clendenen will be deeply missed by the Santa Barbara wine community and the many winemakers and friends around the world who delighted in his long, blond locks, his ride-or-die belief in the Santa Maria Valley AVA, and his nearly insatiable appetite for life.
Clendenen is survived by his son, Knox, who lives and studies in Japan, daughter Isabella, Au Bon Climat's brand ambassador, and friends and family who will miss him dearly and profoundly.